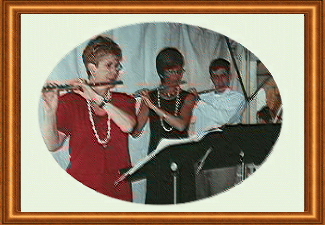 Specializing in elegant baroque and chamber
music for Weddings, Religious services, Holiday parties,
Banquets, Luncheons, Receptions, and Corporate events.




Will add a special touch to your special event. Dorothy herself will
help you set the mood you want; select the perfect music and combine the
perfect group of musicians from soloist, duo, trio to ensemble. To give you the
choice of sound that compliments your event the musicians are trained
in flute, violin, cello, keyboard, and trumpet. Each musician is committed
to excellence in their musical abilities and attention to the details
that will make the musical portion of your event a memorable occasion .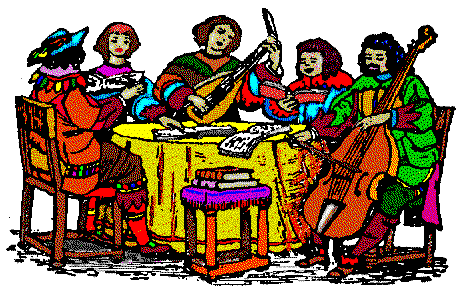 The repertoire includes (and is not limited to):
Selections from JS Bach, Handel,
Haydn, Mozart, Telemann
Ravel and many others.


To hear Chamber Music on the internet and perhaps find pieces that
you especially like I have listed some sites that provide
midi music of flute and chamber music as well as classical
music of all kinds. I hope you
will enjoy listening.



The Classical Archives is a site that specializes in
Classical Music and you will find thousands of selections
by almost every known composer.

Wonderful music from this period (1600-1750). Energetic and ornate music is
the hallmark of the Baroque, making it a good choice of many to enter
the world of classical music. Many people find slower pieces from this
period sound a lot like today's more mellow "New Age" pieces (which do
borrow from the Baroque).
A wide variety of flute music in midi format can be found here.
From this page there are also links to many other flute pages.



Dorothy Connors is an experienced flutist, having played with The New Haven Symphony, The Sacred Heart University Community Chamber Orchestra, Stratford and Milford Symphony Orchestras. She plays in trio's, ensembles, orchestras and as a soloist. She is available for private flute lessons for both children and adults.

For information about booking an event or flute lessons please
Email Dorothy and she will promptly be in touch.
.